Welcome to 4C Security Systems
When it comes to protecting your home or business the correct choice of security provider is vital.
Established in 1987, 4C Security Systems are renowned as one of the area's most established providers of security solutions, serving commercial and domestic customers throughout Anglesey, Gwynedd, North Wales and the North West.
As an indepentent, family run business, our expert team are always on hand to supply bespoke security systems based on the exact requirements of our customers. We take care of every stage of the process, from design, supply and installation through to on-going continual monitoring support. Our maintenance contracts are some of the most extensive in the marketplace and, unlike other security companies, there are no hidden or unexpected costs. We cover our customers for every eventuality with class-leading 3 to 5 years warranties on all new security installations.
Whether it's your home or business premises, 4C understand that your security is our priority. From CCTV security, access control systems and fire alarms to motorised security gates, bollards and barrier systems, we're here to help ensure that you are fully protected, 24/7.

4C Security – For Complete Peace of Mind
4C Security Systems is a Security Systems & Alarms Inspection Board ( SSAIB ) registered company. Under a strict Code of Practice the SSAIB thoroughly inspect registered companies to ensure they are installing and maintaining security systems to a recognised standard. They also scrutinise numerous other requirements such as insurance, quality control, codes of practice and much more.
Having a provider in whom you can trust will ensure peace of mind for you and demonstrate to your insurer that you have acted responsibly to protect your home or business. By choosing an SSAIB accredited company, such as 4C Security, you can be sure of our competence in the installation and maintenance of access control systems, CCTV systems and intruder alarms.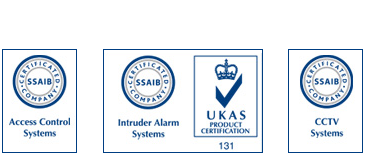 Our Clients
As one of the north west's most established and experienced security companies, we've had the pleasure of working with clients of all sizes in all sectors throughout Anglesey, North Wales and beyond. Below you'll find just a small selection of businesses, councils and organisations from our ever expanding client base.